YOGA RETREAT - INDIA(GOA)
oct 18TH – 25th ( 7 days)
The Cedar offers a 7 days Yoga Retreat / Holidays at India. At a Registered Yoga ashram where can understand yoga from the place of its origin from teachers who are masters of the discipline. The special satvik food will help you grow healthier and as you improve your asana skills you will become stronger. Meditation and chanting will flood you with a peace you never thought was possible. By following the scheduled routine, you will not only invite discipline into your life but you will find that you are more relaxed. Relaxation will lead you to spiritual discovery that will reveal a new way of thinking.
DAILY SCHEDULE

07:00Satsang, Meditation, Chanting Mantras
08:00Fruits or juice & Breakfast
09:15Asana and Pranayama Class
11:30Lunch
12:30Karma Yoga
14:00Philosophy
16:00Asana, Pranayama Class
18:00Dinner
19:30Meditation/Yoga nidra
22:00Lights Out
Meditation-Mantra-Chanting:
Days begin with meditation. You will learn techniques to work with vital energy centers in your body. You will learn Vedic mantra chanting in this session.

Asana-and-Pranayama-Class:
You will learn classical Hatha yoga postures with proper alignment, techniques and modification. This will help you to improve your asana practice. You will also learn basic Pranayama (breathing exercise).

Philosophy:
Introduction to the basic philosophy, concepts and history of yoga, we will talk about Vedic and Vedanta philosophy.

Yoga Nidra:
We will conclude our day with Yoga Nidra (Yogic Sleep) It will help you to release your physical, mental and emotional stress. After yoga nidra you will feel calm, relaxed and joyful.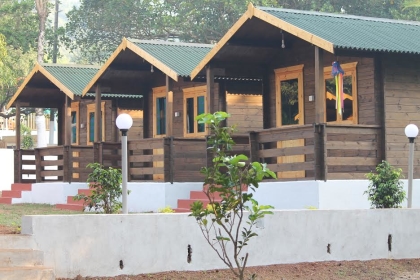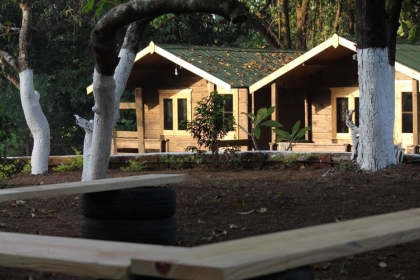 Single - 5500kr

Couple – 9000kr

Registration fee- 1000kr part of whole payment (Non Refunded if cancellation after 10th October)
Last date for complete payment 10th October
The cost includes accommodation, food (all vegetarian meals), Yoga asana and meditation classes/lectures.

Flight Tickets not Included in the price.



Goa Dabolim airport is the closet International airport to ashram. ( 1hour 15min drive from airport to ashram ).

Safe Airport pick up and drop will be provided on advance booking with extra fee (upto 300kr).

For more information and queries please contact at
Kontakt@thecedar.se
+46764127479